HML Client COVID-19 Update
Update published 17.07.2020
In accordance with UK Government guidelines, HML are following advice provided by the authorities including health departments in relation to the Coronavirus.
Telephone System
As of Monday 22nd June, our new telephone network is now live and fully operational between our usual business hours of 9am – 5.30pm.

All pre-existing lines for all offices have resumed, which means you can now contact your local office directly. Please continue to use the same telephone number, which can also be found here on the HML website.

Whilst we have sufficient staff to deal with all incoming calls, there will be limited numbers within the branch network. So that we can handle all calls as efficiently as possible and to improve the customer experience, when calling you will now be provided with three options – Property Management, Finance & Accounts and Legal Services. Once you have selected your choice, you will be automatically transferred to the relevant department where a member of HML will be able to assist you with your enquiry.

For any questions and/or concerns pertaining to the management of your property, if you know the email address or telephone number of your local Property Manager you can contact them directly. Alternatively, during this transitional period you may still send your enquiry to incident@hmlgroup.com, where we will continue to monitor this inbox, whilst social distancing regulations remain in place.
Branch Network
Despite the relaxing of certain restrictions associated with lockdown, which saw the reopening of non-essential shops from Monday 15th June, HML took the decision not to formally reopen the branch network on this given date in order to avoid service disruption and to ensure we are providing a safe environment for all. The safety of our customers and colleagues continues to be our primary concern and we would like to reassure you that our efforts have been invested into taking the necessary precautions to ensure our offices are deemed COVID-19 secure.

Last Friday, the Government announced that the COVID-19 alert level had lowered from a rating of 4 to 3. Level 3 was deemed our final condition and in light of this we are now able to commence with our phased approach to returning safely to the working environment, with an expectancy that there will be a presence throughout all HML offices by Monday 6th July.

Please note, there will be limited staff onsite and as such, we would like to ask you to kindly refrain from visiting our premises for the time being, in order to maintain safe social distancing.

HML will continue to provide regular updates on our website, providing advice and information as required.
HML Return to Work Policy
HML have identified key measures that will be taken and in doing so we have prepared an extensive policy, which is supported by recommendations from professional and governing bodies.
Essentially, our guiding principle is to take care of our people and to safeguard their health and well-being. We are doing our best to balance the safety of all our employees against the demands of delivering a complete service. With that said, despite the vast majority of staff working from home, HML's core services have fortunately remained unaffected and many areas of the business have continued to perform as usual. Staff have been able to continue working remotely, using technology to facilitate virtual meetings with our clients.
We have developed a phased return to work pyramid model, which sees our staff placed into categories. This model has been developed to gradually phase staff back into the workplace, in stages. During this time, we would like to take this opportunity to ask that you kindly continue to refrain from visiting our branches in order to maintain safe social distancing.
There will be new working methods implemented, which include strict social distancing measures. Kitchens and breakout areas will continue to be closed and HML will stagger working hours so that all staff are not in at the same time. 

Contacting Your HML Branch
We will phase the connectivity back to our offices based on our ability to resource our receptions. As such during this phasing we will continue to operate a central nerve centre for all telephone contact with HML. These queries will then be triaged centrally, and relevant onward action then taken.


Please continue to contact your Property Manager direct in email. If you do not know your Property Manager's contact details, please email incident@hmlgroup.com

In order to help us reduce the risk of infection to our staff we continue to ask that you refrain from visiting our offices.

Personal Protective Equipment (PPE)
HML will be providing staff that visit client sites PPE which will include:
Face masks
Surgical Gloves
Anti-viral gel stations
Staff conducting site visits will (until further notice) utilise a facemask when travelling on public transport and/or when visiting your site.

Since lockdown HML staff have embraced remote meeting facilities.

HML have adopted Microsoft Teams and we hope you have found this technology revolutionary in the approach to the traditional evening meetings. HML are encouraging staff and our clients to continue using video-conferencing to minimise the need for staff to travel and/or use public transport.

Staff who develop symptoms of COVID-19 – or who live with someone who does – will still need to self-isolate for 14 days. If a staff member is displaying symptoms and has visited your site we will inform you of this.

Changes to the current lockdown restrictions are likely to be slow and gradual. They are also likely to fluctuate, and stricter measures imposed, possibly with very little notice. HML will continue to monitor the situation and adapt our policy, if needed, accordingly.
With this pandemic far from over, and its impact likely to be felt for years to come, one thing is certain; the world of work is never going to be the same. Avoiding a second wave of infection is an important consideration. A strong and effective collaboration and coordination by diverse stakeholder groups – ranging from employers and governments to unions, institutions and, of course, workers themselves – is needed to prepare for the new normal in the workplace.

Client & Lessee Communication
Our team of Property Managers and their support staff have full access to our systems remotely and are able to work from home.

Property Managers are able to communicate effectively between departments, which includes our accounting and essential services teams to ensure all products and services are delivered safely and in line with Government guidance (see below for additional information concerning these products and services).

Property Inspections & Client Meetings
Property Managers have been requested to cancel or postpone their site inspections until further notice to help with social distancing, however client contact is being maintained via the use of telephony and email.

We have requested that AGM's, EGM's, Director and Resident Meetings are postponed or if essential, are carried out via video conferencing or conference calling. We are researching cost effective solutions to carry out these meetings via video and conference calling and can relay this information should the need arise.

HML are working with our Contractor Accreditation Scheme to ensure "essential" maintenance work continues (see below).

Contractor Accreditation Scheme (CAS)
HML CAS are working with contractors to ensure "essential" maintenance work will continue to be carried out in a safe environment. Contractors at this time will adopt social distancing where necessary.

There is confusion over the use of the word "essential" when describing whether people's work is to continue or stop. The Government is relying to some extent on people using their judgment. Plumbers and construction workers can continue with urgent and reactive repairs and maintenance providing safe practice (social distancing) is adhered to. A contractor has the right to refuse to enter if this is not the case.

Out-of-Hours
The Out of Hours service, provided for HML by Adiuvo, is now being operated remotely with the full use of technology to ensure urgent out of hours services continue to be provided for HML customers.

Health and Safety / Fire Risk & Asbestos
The HML Health & Safety team have adapted services to ensure some urgent site inspections can continue with the use of social distancing and client contact being maintained via the use of telephony. There will be an impact on non-urgent inspections which will be carried out when the Government controls are lifted.

Company Secretarial & Legal Services
To maintain company secretarial services, HML have moved all teams into remote working environments to provide distancing to reduce the impact of transfer. Technology is also utilised to maintain services with reduced staffing.

Surveying Services
HML have teams of Chartered Surveyors working for clients in a range of services. During the current time, the Surveying team will focus on critical and reactive works. They will also be applying social distancing whilst on site. All client meetings will be carried out by way of conference and video call. To protect any possible transfer, the Surveyors are all set up to work from their home addresses when not onsite carrying out inspections.

Concierge Services
Our Concierge services team have all adopted new onsite policies to reduce interaction with residents and applying social distancing, with increased use of sanitizers on site for staff and visitors.

Where staff are not carrying out essential work they will be asked to stay at home until normal service can be resumed.

A number of our sites have leisure facilities such as swimming pools, fitness centres etc and following Government advice these will be closed with immediate effect.

By embracing the use of technology, we are now utilising video conferencing tools, which allows us to successfully host virtual tours of all of our properties. We will continue to host viewings remotely in the first instance, but we are now able to attend properties for onsite viewings. All staff and viewers will be adhering to our strict social distancing and hygiene measures, which includes the wearing of PPE. Should you have any questions with regards to this process please contact your local Property Manager in the first instance.

We are acutely aware that there are many landlords who are looking to bring their properties to the market. Despite the relaxing of certain restrictions associated with lockdown, providing those landlords with valuations based on a physical visit to the property may still prove problematic. By continuing to embrace the use of technology and in particular video conferencing we are able to offer valuations to new and existing clients. If you have another property you would like us to let for you or if you know somebody who is looking for a professional letting agent, please do make contact with your local office.

We have implemented a new centralised system and now have a dedicated HML Lettings telephone number with just one phone number to call to reach any of our lettings' teams – 0333 032 5959. Don't worry, you will still be able to contact your local office on their direct lines and mobile numbers. When calling the new number, you will be provided with five options – Bath, Birmingham, Luton, Richmond and Romford. Once you have selected your choice, you will then be transferred to the relevant branch where you will have the opportunity to speak with a member of the HML Lettings team who will be able to assist you with your enquiry.

If you are a HML Lettings tenant and are experiencing financial hardship, please click here for more information.

Due to constant review and tweaking of our processes and investment in technology, The Client Finance department can operate the vast majority of processes remotely, either fully or in part. Further details on specific processes are detailed further below.
Our lessee receipts allocation process is fully remote capable and therefore we do not expect any significant delays where payments are made electronically. However, there may be a delay if payments are made via cheque and therefore, we would ask that cheque payments are avoided where possible.
Our contractor payment process is fully remote capable where contractors supply invoices via email. Therefore, we advise our contractors to submit their invoices electronically.
Our issuing of budgeted service charge demands can also be operated electronically, but only where lessee email addresses are held. There will be some delay in the issuing of postal correspondence as the numbers are significant but again this should be kept to a minimum. Again, this can be mitigated by providing your up to date email address and requesting that you switch to the preference of electronic correspondence.
There may be delays with some of our year-end accounting functions, primarily the circulation of accounts.
For our Landlord clients there should be no delays with the issuing of rent reports or payment of funds as this is a primarily electronic function, however we are unlikely to be able to make cheque payments and electronic payment methods will need to be used.
Our bank reconciliation function is fully remote capable and therefore clients can rest assured that their funds are secure.

There has been much debate over the term 'essential work' and the UK Government has suggested a 'common sense' approach is taken. ARMA and the IRPM are both in contact with the Ministry of Housing, Communities and Local Government, to seek clarity on what work and roles are considered 'essential'. We will relay this information as soon as it's published.

Cleaning of touchpoints and communal areas should remain our priority, along with fire safety and security inspections, tests and urgent maintenance. Statutory fire testing will still be required, particularly at a time when we have most people at home! Other key items of equipment such as boilers, waste management and water supplies will also need to be maintained.
Contractors
For the time being essential maintenance and reactive repair of a building (e.g. leaking roof, gas safety inspections, etc) can continue provided that the contractor is well and has no coronavirus symptoms, however mild. A contractor can refuse to enter a property if safe practice (maintaining a 2-meter distance from others and washing hands with soap and water often for at least 20 seconds or using hand sanitiser gel if soap and water are not available) is being ignored. All work deemed non-essential (e.g. window cleaning, general decorating, etc.) should be postponed until a later date.

HML has the capability to ensure all contractors are paid for their work in the usual manner but request that invoices are submitted electronically.
For the time being essential maintenance and reactive repair of a building (e.g. leaking roof, gas safety inspections, etc) can continue provided that the contractor is well and has no coronavirus symptoms, however mild. A contractor can refuse to enter a property if safe practice (maintaining a 2-meter distance from others and washing hands with soap and water often for at least 20 seconds or using hand sanitiser gel if soap and water are not available) is being ignored. All work deemed non-essential (e.g. window cleaning, general decorating, etc.) should be postponed until a later date.

HML has the capability to ensure all contractors are paid for their work in the usual manner but request that invoices are submitted electronically.
Key Workers
The Government has now released new guidelines surrounding working in the current COVID-19 pandemic. They have advised that work should only be carried out in public spaces if it's "essential". Whilst this is very vague, we have constructed the below to advise further on which roles in the property industry we believe are essential or non-essential.

Regardless, please ensure that you're carrying out social distancing any time that you're leaving your home and stay at home unless it's completely essential that you must leave.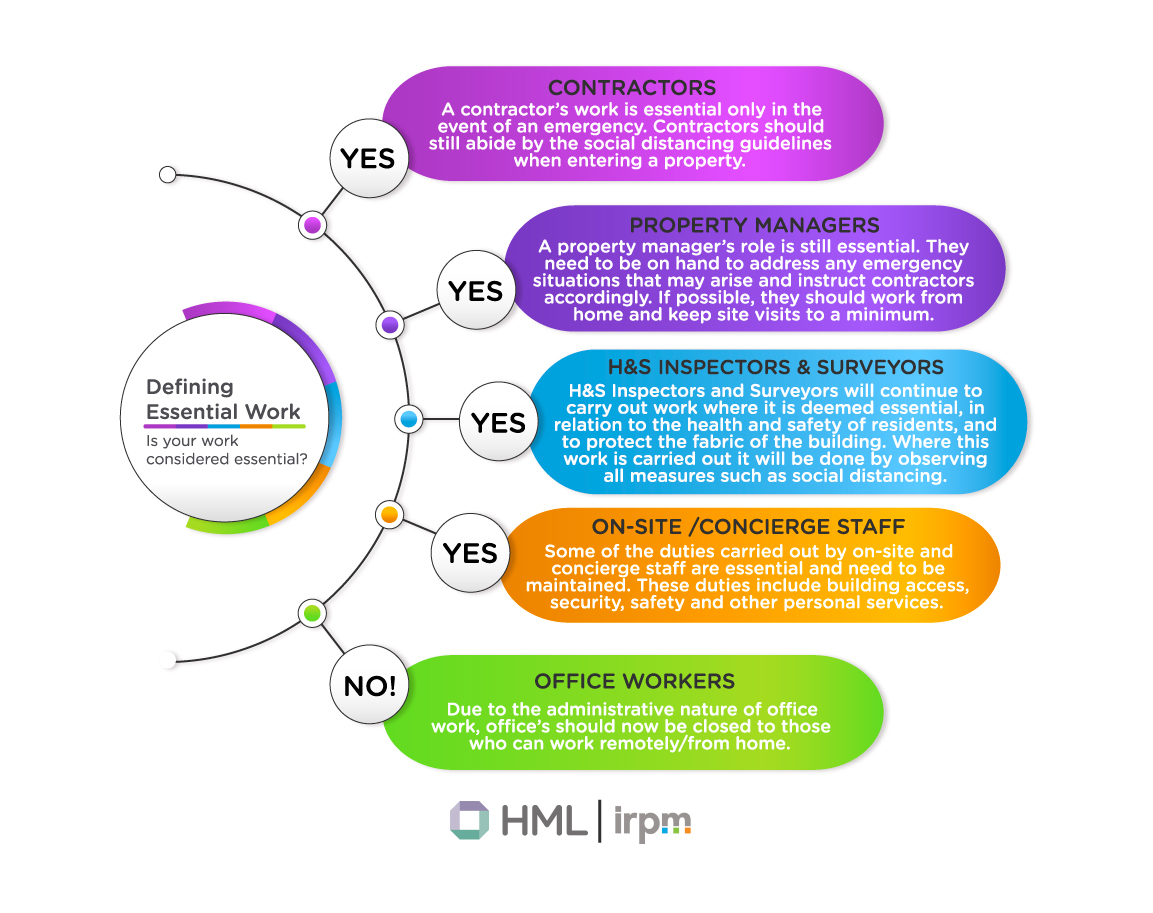 Property Managers
Whilst property management staff are not included as a key worker at present, this may change as protocols are updated.

Property Managers should avoid site visits when possible to prevent the spread of the coronavirus. AGM's, board meetings, etc should be carried out via conference or video calling.
On-site / Concierge Staff
On-site staff should also be kept to a minimum. In circumstances where staff are required to work on-site, adequate hand wash and sanitiser should be provided and personal hygiene measures should be met. Industry bodies are looking to add on-site staff members with vital duties, such as building access, security and safety to the key worker list.

Please note, that due to the office closures we are currently unable to accept service charge payments via cheque until further notice. If you are able to make an electronic payment then please do so, using the bank account details shown on your Application for Payment and clearly detailing your Unique Tenant Reference number (UTR). If you encounter any difficulty paying your service charges via electronic methods, please email accounts@hmlgroup.com and a member of the team will be in touch with regards to your payment options.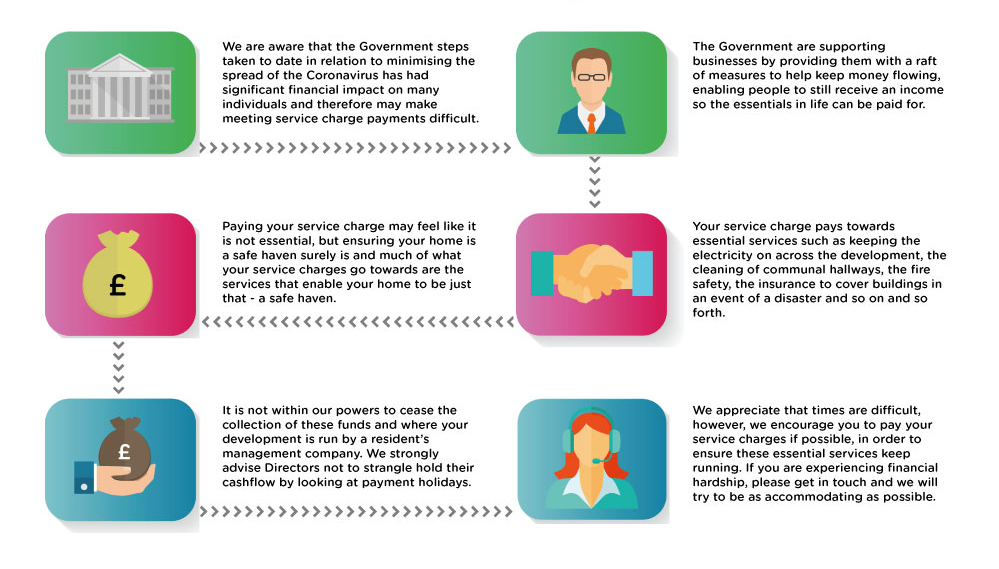 And finally…
We will endeavour to keep business disruption to a minimum and we remain committed to continue servicing our clients and hope that our communications can be a source of support during this ever-evolving situation.

Thank you for your continued patience and understanding,
HML Group

DO WE HAVE THE RIGHT CONTACT DETAILS FOR YOU?
It is important that we are able to communicate with you quickly and efficiently. To be kept up-to-date by email, click here to update your contact details.
Guidance and advice
At HML we not only strive to look after the properties of our customers, but we also take the safety of our residents very seriously. We strongly encourage you to visit the Government and NHS website to be kept up to date and for advice should you experience any symptoms.
Useful Links